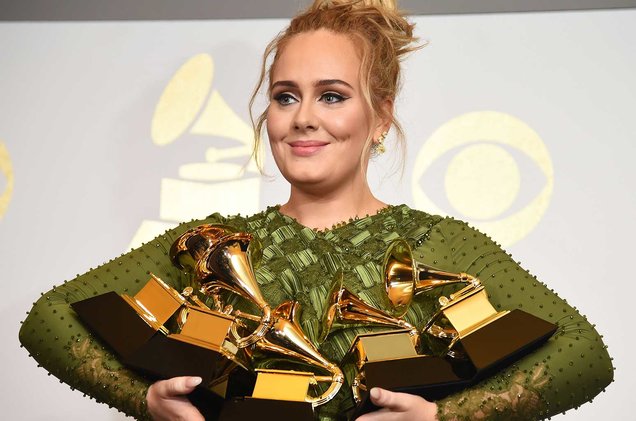 Adele: She swept the awards show with the biggest prize Album of the Year. She opened with show with one of my favorite songs of 2016 "Hello."  She was looking gorgeous in a Givenchy dress as she sang from the depths of her soul, turning an apology to an old boyfriend into a wounded triumph of emotion. This was classic Adele at her very best.
Bruno Mars: He delivered two of my favorite performances of the night. However it was his Prince tribute that stole the show.
The tribute began when The Time (a member of the Purple One's Minneapolis musical family) warmed up the audience with "Jungle Love" and "The Bird" (both penned by Prince). Dressed in a purple suit, with a touch of eyeliner and mimicking Prince's dance moves, Mars opened with Prince's "Let's Go Crazy," in honor of the singer, who died last year. His tribute to prince was pure perfection.
Katy Perry: Rocking a white pantsuit, with the word "RESIST" armband, and rose-colored glasses, a newly blond Perry performed her just-released single, "Chained to the Rhythm," which is loosely about clinging to the illusion of freedom. Building her performance around subtle metaphors, she started inside a house surrounded by a white picket fence — i.e., the American dream. The house soon collapsed like a deck of cards, and pieces spun through the air, before Perry joined Bob Marley's grandson Skip, who sang the song's refreshing reggae passage. As the performance ended, the two artists held hands, and the back of the stage set lit up with the preamble to the Constitution. This grown-up Katy clearly isn't the fluffy pop star who used to wear whipped-cream brassieres and sing about teenage dreams. I think Katy Perry have a new hit single on her hands.
Beyonce: I have mixed emotions about Beyonce performance the more I reflect on it. First she looked like a Goddess. Just beautiful. She is glowing. The visuals of her performance were outstanding. It looked gorgeous coming across my television screen. My one critique was that I was not familiar with the song. I loved her "Lemonade" album. However I thought it was a poor choice for song selection. People want to be able to sing along. You could not. I also think the performance was a little over the top. I'm curious about other people thoughts of her performance.
Chance The Rapper: I fell in love with Chance the Rapper.  He won Best New Artist, Chance also scored golden gramophones for Best Rap Performance, for his Lil Wayne and 2 Chainz collab, "No Problem," and Best Rap Album, for Coloring Book (the first-ever streaming-only album to even be nominated, let alone win). He also gave a great performance alongside Kirk Franklin and Tamela Mann.
A Tribe Called Quest: A Tribe Called Quest delivered a powerful politically charged set.
A Tribe Called Quest started their performance with a message. "We like to say all around the world, all those people who are pushing people who are in power to represent them. Tonight, we represent you," Q-tip said, adding he dedicates their performance to Malik Taylor, also known as Phife Dawg.
With Anderson .Paak, they performed a medley of songs: "Award Tour," "Movin Backwards," and "We the People…"
Busta Rhymes took the opportunity to address Trump directly, saying, "I want to thank President Agent Orange for perpetuating all of the evil that you have been perpetuating all throughout the United States. I want to thank President Agent Orange for your unsuccessful attempt at the Muslim ban! When we come together, we the people!"
This year the Grammy's did a good job normally the show is a little slow at times, but they had good performances this year.
Ms. Culture Keeper-