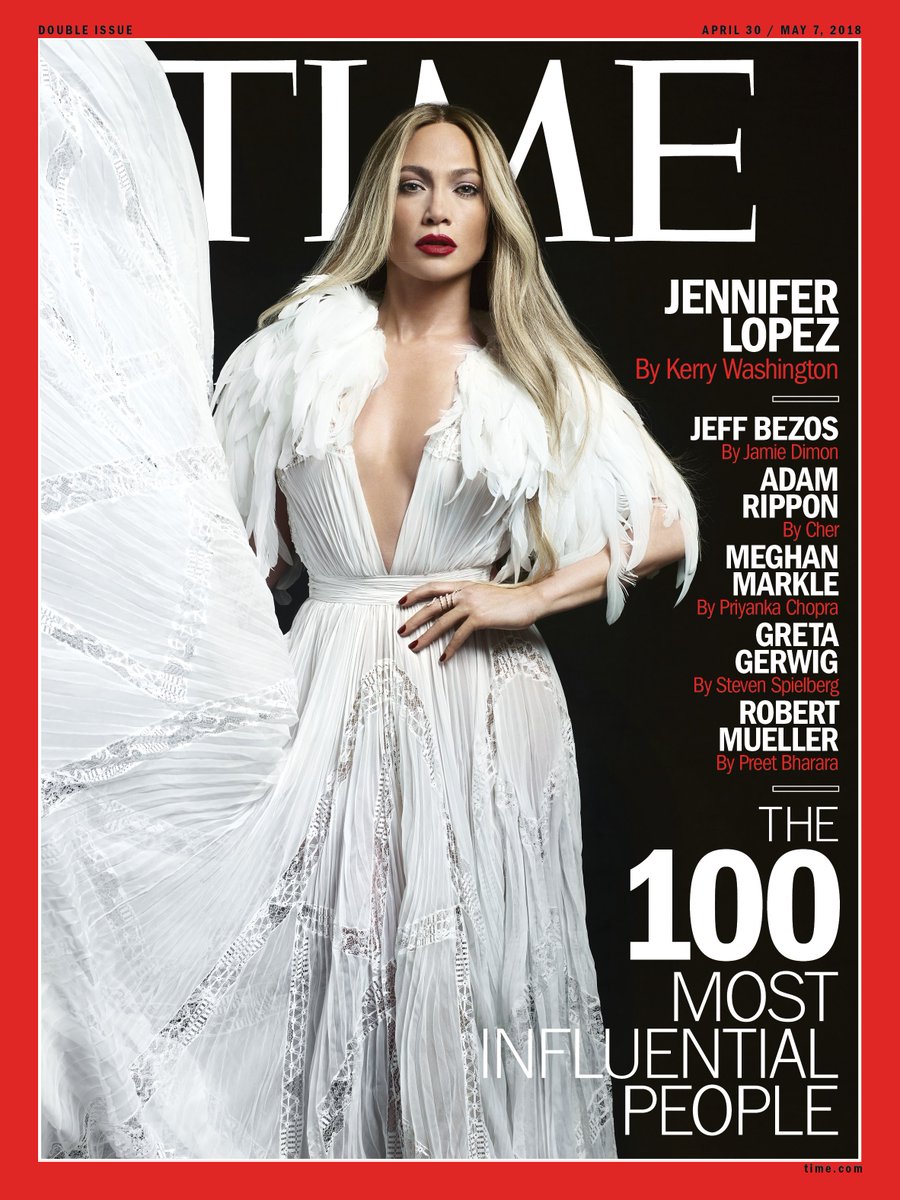 Time magazine unveiled its annual list of the 100 most influential people in the world Thursday, including record numbers of 45 women and 45 people under the age of 40.
"The TIME 100, always a reflection of its moment, looks quite different than in the past," Time Editor-in-Chief Edward Felsenthal wrote in a letter explaining how the magazine chose the 100 people on the list. "Influence increasingly knows no single zip code and no minimum age."
Each year editors at the magazine select the 100 people they believe are the world's most influential and J-Lo was picked as one of this year's "Icons" alongside fellow musicians Rihanna and Kesha, and "Black Panther" star Chadwick Boseman and director Ryan Coogler.
The magazine paired guest contributors to write about each of the 100 people on the list. Former President Barack Obama says he draws inspiration from the Parkland, Fla., shooting survivors turned activists who organized the March for Our Lives rally against gun violence.
"They have the power so often inherent in youth: to see the world anew; to reject the old constraints, outdated conventions and cowardice too often dressed up as wisdom," Obama wrote about Jaclyn Corin, Emma Gonzalez, David Hogg, Cameron Kasky, and Alex Wind. "The power to insist that America can be better."
Among the 45 women chosen were activist Tarana Burke, who founded Me Too and human rights activist Nice Nailantei Leng'ete, who has worked to end female genital mutilation in Kenya.
"While we remain much too far from gender parity in global leadership, there are more women than ever on this year's TIME 100—proof that there are ways of changing the world beyond traditional power structures," Felsenthal wrote.
Kerry Washington has shared how she was inspired by Jennifer Lopez's success for a piece marking the singer, actress, and style icon's selection as one of the 2018 Time 100.
In her tribute to the "Get Right" singer, who like her is a native of New York's The Bronx neighborhood, Washington wrote that she had watched her idol perform and that her success in multiple fields taught her she could achieve anything.
"As a kid growing up in the Bronx, I used to watch Jennifer Lopez from the wings," Washington explained. "Several of us girls would hide in the folds of the curtains at the Boys & Girls Club to watch her perform. We were in awe of our neighborhood role model and phenom."
Washington continued, "She made me believe that you could come from where we came from and achieve whatever you imagine is possible."
Six of the top 100 will be featured on covers of the magazine's special issue, and include: NBA star Kevin Durant; popstar Rihanna; comedian and actor Tiffany Haddish; actor Nicole Kidman; raptress Cardi B; Prince Harry; singer Jennifer Lopez; and Microsoft CEO Satya Nadella.
Read more below:
http://time.com/collection/most-influential-people-2018/
Ms. Culture Keeper-