Torrei Hart, 40 is mapping out her own path in Hollywood. The mother of two and former Atlanta Exes star is taking her life experiences and turning them into comedy gold. I was initially surprised when I saw Torrei Hart's name featured as a upcoming performer at one of the most famous comedy clubs in the United States "Tommy T's."  I was instantly intrigued.
I was interested in hearing more about her journey to doing stand up comedy and acting.
Check out my Exclusive interview with Ms. Hart below:
TCK: What led to you doing stand up comedy?
TH: I always had aspirations to be a entertainer. However life circumstances happen (marriage, children etc), but now my kids are older. In January I decided to really hit the pavement and pursue acting and doing stand up comedy.
TCK: Have you had any training in acting?
TH: I did a lot of sketch. I still do a lot of sketch and various characters. Because basically, to me, sketch is you're acting, but you have to come up with these characters. I took one of Bill Duke's acting class. And I mean, you talk about Hollywood life and it was big names in his class, so I was nervous. I had to get out there doing monologue. I didn't last in that class. I actually did not last. So, that's when I was like, "Okay. Maybe I should start smaller." I don't know, it was very challenging for me. Then, I end up in Howard Fine, who is another big time Hollywood acting teacher–
So, I took his class and that was where I started building my confidence.
TKC: How was your experience doing reality television?
TH: Reality television is scripted. How you respond in certain situations is your choice . I have a sharp tongue.
TKC: What comedians inspire you?
TH: Bill Burr is one of my favorites. I draw inspiration from Sommore. She is a beautiful sexy woman. My ex husband Kevin has a amazing work ethic. He works very hard. I opened for Katt Williams at the Microsoft Theater 8,000 people. Katt is amazing. He leaves it all the stage.
TKC: What fears you have in pursuit of your dreams. The entertainment business can be really hard on women.
TH: Getting out of my own way. Overcoming my own insecurities.
TCK: What would success look like for you.
TH: I would love to have or be on a sitcom. My dream co-star would be Samuel l. Jackson. He's an  amazing  and very kind man.
TCK: Tell me about Heavenly Hart beauty line.
TH: I was approached by a friend and they wanted me to do something with their line. And I said, "Well, I've been thinking of creating a line. Since I have my locks, I've always wanted to get into natural hair care. I think it's important that black women see you can be beautiful, with your natural hair. My daughter was my inspiration for this hair care line. I want to be able to pass this business on to her.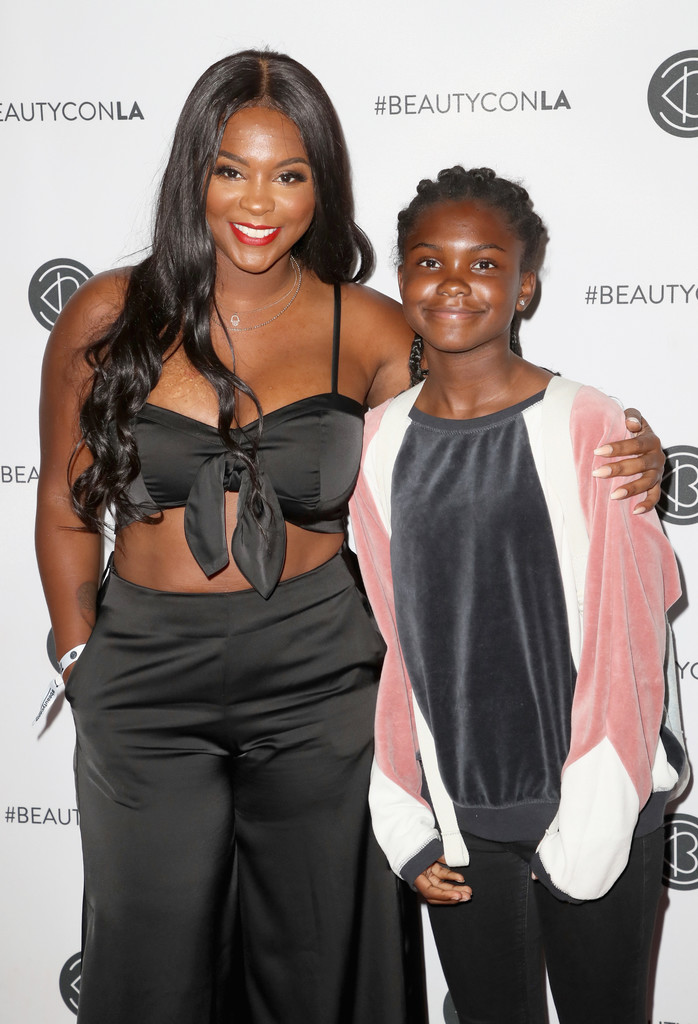 TCK: What are you working on?
TH: Some exciting things are happening for me. I start shooting the movie "Hollywould" starring Eric Roberts. . I am also apart of the upcoming drama "A Shot of Justice" directed by Dame Dash. And I will continue to do stand up.
I had the chance to check Torrei's act and she was funny. After the show she graciously took pictures and engaged in conversation with fans who came to see her. My sense of Torrei is she has the it factor, drive, and ability to go far in this business and take hollywood by storm.
You can follow Torrei on instagram @TorreiHart and on Twitter @Torrei_Hart to check out all the latest.
Ms. Culture Keeper-